Since 2018 The DART Company has been retailing the finest integrated set of smoking devices available on the market.  Elegant, precision-machined, and thoughtfully designed – whether you're on the go or at home, it's hard not to appreciate the beauty and the convenience of our products.  Designed to be used (and seen) together, our pipes, canisters, lighters and cases seamlessly blend together in your hands and on your shelf to provide the ultimate smoking experience.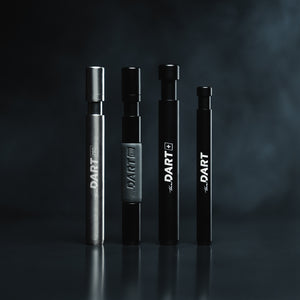 Our Signature Pipes
In addition to their stunning good looks, all DART Pipes come with our patented spring-loaded ash ejection mechanism, a feature that coupled with our unique filtration system on top-of-the-line DART PRO models sets them apart from traditional wood or glass pipes in both form and function. Available in a rainbow of colors and materials, including our flagship Titanium DART.
Shop DARTs
Next Level Herb Storage
DART Canisters hold your ground flower, odorlessly, in a multitude of formats and styles to suit your needs. They are designed to easily load flower into our DART pipes and fit into our carry cases.
Shop Herb Canisters
Light it up
Our custom Zippo and Clipper lighters are elegant metal complements to your DART Pipe and Canister.  Available incolors to match your choice of pipe/canister.
Shop Lighters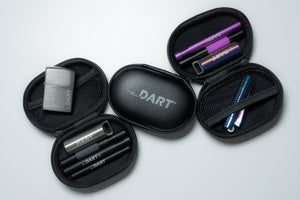 Sets and Kits
Customize your smoking kit or choose from one of our popular curated sets to suit your style and needs.
Shop Lighters